Op een poll van de National Journal en van socioloog Richard Gallup gaven de leden van het Amerikaanse Congress volgende antwoorden op de vraag of ze van oordeel zijn dat we als mens verantwoordelijk zijn voor een antropogeen gedreven klimaatverandering. Of ze met andere woorden de wetenschappelijke stand van zaken onderschrijven.

De resultaten zijn bijzonder opmerkelijk :



Er is een overduidlijke tweedeling afhankelijk van het politieke standpunt van de geïnterviewde : conservatieven zijn duidelijk meer geneigd de wetenschap te verwerpen.

Het waarom is me een raadsel.
Mogelijks is er een verband met het dogmatisch vasthouden aan bepaalde economische leerstellingen waard(v)oor wetenschap moet wijken.

Tevens is de Republikeinse partij de thuishaven voor de streng-christelijke strekkingen in de VS, een land waar bv het creationisme wijdverbreid is. Creationisme dat de wetenschap ook al verwerpt, zodat het verwerpen van de klimaatwetenschap makkelijk geïncorporeerd kan worden in het verwerpen van wetenschap tout court als zijnde een complot van ... (vul zelf maar iets in)


De leden van het Congress werden ook bevraagd naar het waààrom van hun standpunt. De leden die antropogene klimaatverandering onwaar achten, gaven deze motivatie :


Het democratische lid :
[Evidence is conflicting on whether] warming is man-made, but there shouldn't be any doubt that a man-made solution is needed. The trend won't reverse on its own.


(...) This global-warming debate is a farce.
De conservatieven van hun kant :

"Reasonable people have doubts. For every Al Gore, there is an intelligent scientist armed with legitimate facts to debunk him."

"But this is an opportunity for us to export U.S. innovation to improve global environmental responsibility and not just regulate ourselves."

"In the '70s, the 'consensus of scientists' was that we were beginning global cooling. Now it is global warming. Excuse me if I am skeptical of this newest form of secular religion. Perhaps we should pause and take a breath before we drink the new Kool-Aid!"

"The Earth is warming, but we don't know whether it's caused entirely by humans or whether human actions can change it."

"It is proven that it is a partial cause, but not the primary cause."

"No, not man-made pollution alone."

"Human contribution is minimal, but pollution should be reduced for a cleaner environment."

"If there's one thing poll after poll indicates, it's that the science is not settled on this issue."

"What has been proven is that a well-targeted pop-culture campaign can trump even the best of science. The bad news is, a very few will get very rich, and the rest of us will foot the bill with mythical creations like cap and trade. The impact of such programs on the environment: Zero. The cost to the American public: Huge. The grin on Al Gore's very wealthy face: Priceless!"

"It's been proven beyond a reasonable doubt that Democrats are OK with the idea of surrendering our spot atop the world economy."

Het lobbywerk van de denial-industry heeft steeds de weg bewandeld twijfel te zaaien over de eensgezindheid binnen de academische wereld, o.a. middels een hoop schijnwetenschappelijke schrijfsels waar de leek de resem fouten niet uit kan halen.

Daar waar er binnen de wetenschappelijke wereld geen enkele discussie meer is over het al dan niet optreden van een antropogene klimaatverandering, merken we in de antwoorden van de congressmen meermaals opmerkingen als zou er nog wetenschappelijke onenigheid bestaan over dit punt.

Met andere woorden : deze poll peilt in wezen naar hoe effectief de denial-campagnes tot nu toe zijn geweest. Onderstaande grafiek geeft het onthutsende antwoord :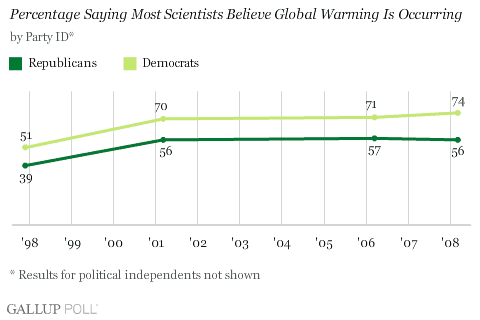 Bijna één conservatief op twee is zich niet bewust van de consensus die er binnen de klimaatwetenschap heerst. Bij de democraten is dat nog steeds één op vier.

Het lobbywerk om de klimaatwetenschap aan te vallen is dus best wel effectief geweest. Wie maar graag genoeg iets wil geloven, is makkelijk manipuleerbaar. Dat lijkt de belangrijkste conslusie die getrokken kan worden.

De volledige resultaten van de survey zijn hier terug te vinden